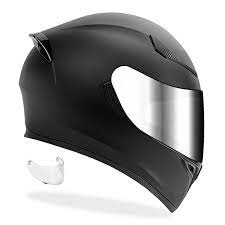 Motorcycle Helmets: Your Ultimate Protection on Two Wheels
Motorcycling is an exhilarating experience that offers freedom, adventure, and a sense of liberation like no other. However, it also comes with its fair share of risks. As responsible riders, it is crucial to prioritize safety on the road, and one essential piece of equipment that should never be overlooked is the motorcycle helmet.
A motorcycle helmet is more than just a stylish accessory; it is your ultimate protection on two wheels. It serves as a barrier between your head and potential hazards, significantly reducing the risk of severe head injuries in case of an accident. Here are some key reasons why wearing a helmet is absolutely vital:
Head Injury Prevention: The human skull may be strong, but it isn't invincible. In the event of a crash or collision, the impact can cause severe head trauma that can lead to permanent brain damage or even death. A well-fitted helmet acts as a shock absorber, dispersing and reducing the force of impact to safeguard your head.
Protection from Debris: Riding at high speeds exposes you to various elements such as dust, rocks, insects, and other debris that can potentially cause eye injuries or distract you while riding. A helmet with a visor or face shield provides an additional layer of protection, keeping your eyes safe and allowing you to focus solely on the road ahead.
Weather Shield: Motorcyclists face unpredictable weather conditions throughout their journeys. A good-quality helmet shields your face from raindrops, wind gusts, and extreme temperatures, ensuring optimal comfort during rides.
Noise Reduction: The constant exposure to wind noise at high speeds can lead to hearing damage over time. Wearing a helmet with proper padding reduces wind noise levels and protects your ears from long-term harm.
Legal Requirement: In many countries around the world, including the UK, wearing a motorcycle helmet is not only a wise choice but also a legal requirement. Failing to comply with helmet laws can result in hefty fines and penalties, not to mention the increased risk of injury if an accident occurs.
When it comes to choosing the right motorcycle helmet, there are several factors to consider:
Fit: A helmet should fit snugly on your head without being too tight or loose. It should sit level on your head and cover your forehead, ensuring maximum protection.
Certification: Look for helmets that meet safety standards such as the European ECE 22.05 or British Standard BS 6658:1985. These certifications guarantee that the helmet has undergone rigorous testing and meets specific safety requirements.
Construction: Helmets come in various materials such as polycarbonate, fiberglass composite, or carbon fiber. Each material has its own strengths and weaknesses in terms of weight, durability, and impact resistance.
Features: Consider additional features like ventilation systems for airflow, removable liners for easy cleaning, and quick-release buckles for convenience.
Remember, wearing a helmet is not just about complying with regulations but also about safeguarding your life. Invest in a high-quality helmet that meets safety standards and suits your riding style. Additionally, always ensure that your helmet is well-maintained and replace it if it has been involved in an accident or shows signs of wear and tear.
As motorcyclists, we embrace the thrill of the open road while recognizing the importance of responsible riding practices. Wearing a motorcycle helmet is not just a choice; it's a commitment to our own safety and well-being. So gear up, protect yourself, and enjoy the ride with confidence knowing that you have taken every precaution to keep yourself safe on two wheels!
Frequently Asked Questions: Motorcycle Helmet Guide in the UK
What type of helmet should I buy?

When it comes to choosing a motorcycle helmet, there are several types available on the market. The right helmet for you will depend on various factors such as your riding style, preferences, and budget. Here are some common types of motorcycle helmets to consider:
Full-Face Helmet: A full-face helmet offers the most comprehensive protection by covering your entire head, including the face and chin. It provides excellent impact protection and is suitable for all types of riding, especially high-speed or long-distance journeys. Full-face helmets often come with additional features like ventilation systems and visors for enhanced comfort and visibility.
Modular Helmet: A modular helmet combines the benefits of a full-face helmet with the convenience of an open-face design. It features a hinged chin bar that can be flipped up, allowing riders to easily communicate or take a break without removing the entire helmet. Modular helmets are versatile and suitable for riders who prefer flexibility in their riding gear.
Open-Face Helmet: An open-face or three-quarter helmet covers the top, sides, and back of your head but leaves your face exposed. It provides good ventilation and a wider field of vision compared to full-face helmets. Open-face helmets are popular among cruiser or scooter riders who prioritize comfort and a sense of freedom.
Half Helmet: A half helmet, also known as a brain bucket or skull cap, covers only the top portion of your head while leaving your face entirely exposed. While they offer minimal protection compared to other helmet types, they are lightweight and provide maximum airflow. Half helmets are commonly chosen by riders who prefer a minimalist design or ride in low-risk environments.
Off-Road/Motocross Helmet: Designed specifically for off-road riding or motocross activities, these helmets feature an extended chin bar, sun visor, and enhanced ventilation for optimal airflow during intense physical activity. They offer excellent protection against dirt, debris, and impacts associated with off-road riding.
When selecting a helmet, it's important to prioritize safety and ensure that it meets relevant safety standards such as ECE 22.05 or DOT (Department of Transportation) certification. Additionally, consider factors like fit, comfort, weight, and additional features based on your personal preferences.
Remember, investing in a high-quality helmet is an investment in your safety. It's always recommended to try on different helmets and consult with experts at reputable motorcycle gear stores to find the best helmet that suits your needs and provides optimal protection during your rides.
How do I fit a motorcycle helmet correctly?

Properly fitting a motorcycle helmet is crucial for optimal safety and comfort. Here are the steps to ensure a correct fit:
Measure your head: Use a soft measuring tape to measure the circumference of your head, just above your eyebrows and ears. Note down the measurement in centimeters or inches.
Try on different sizes: Visit a reputable motorcycle gear store and try on helmets in various sizes that correspond to your head measurement. Sizes may vary between brands, so it's essential to try different options.
Check for snugness: Put the helmet on, ensuring it is level on your head and covers your forehead without obstructing your vision. The fit should be snug but not overly tight or uncomfortable.
Assess pressure points: Pay attention to any pressure points or areas of discomfort, such as tightness around the temples or excessive pressure on the forehead. These can lead to discomfort during long rides.
Adjust the straps: Fasten the chin strap securely, ensuring it is snug but not overly tight. You should be able to open your mouth comfortably without feeling restricted.
Perform a shake test: While wearing the helmet, gently move your head side-to-side and up-and-down to check for excessive movement or looseness. The helmet should stay firmly in place without shifting around.
Check visibility: Ensure that you have an unobstructed view when wearing the helmet, with sufficient peripheral vision and no interference from the visor or any other part of the helmet.
Test stability: Bend forward at the waist while wearing the helmet, then slowly stand back up straight. The helmet should remain securely in place without sliding forward or backward.
Wear it for a while: If possible, keep the helmet on for several minutes to assess its comfort over an extended period of time. Discomfort or hot spots may become more noticeable after wearing it for longer durations.
Seek professional assistance if needed: If you're having trouble finding a helmet that fits properly or have specific concerns, consult with an experienced salesperson or a professional helmet fitter. They can provide expert guidance and help you find the perfect fit.
Remember, a properly fitted helmet should provide a secure and comfortable feel without causing any pain or discomfort. Investing time in finding the right fit is essential for your safety and enjoyment while riding.
What safety standards are motorcycle helmets tested to?

Motorcycle helmets are tested to various safety standards depending on the region or country. Here are some of the most commonly recognized safety standards for motorcycle helmets:
ECE (Economic Commission for Europe) 22.05: This is the standard used in many European countries, including the United Kingdom. Helmets that meet the ECE 22.05 standard have undergone rigorous testing for impact resistance, penetration resistance, retention system strength, field of vision, and more.
DOT (Department of Transportation): The DOT standard is specific to the United States and ensures that helmets meet minimum safety requirements set by the Department of Transportation. Helmets with DOT certification undergo tests for impact attenuation, penetration resistance, and peripheral vision.
Snell Memorial Foundation: The Snell certification is a voluntary standard that exceeds minimum legal requirements in many countries. Snell-certified helmets undergo extensive testing for impact protection and performance at high speeds.
AS/NZS (Australian/New Zealand Standard): This standard is specific to Australia and New Zealand and ensures that helmets meet certain safety criteria, including impact absorption, retention system effectiveness, field of view, and more.
It's important to note that different standards may have varying testing methods and criteria. However, all these standards aim to ensure that motorcycle helmets provide a certain level of protection in case of an accident or collision.
When purchasing a motorcycle helmet, it's advisable to look for those that meet recognized safety standards relevant to your region or country. These certified helmets have undergone thorough testing to ensure their ability to protect your head in various scenarios on the road.
Are there any laws governing the use of motorcycle helmets in the UK?

Yes, in the United Kingdom, there are specific laws in place governing the use of motorcycle helmets. It is a legal requirement for motorcyclists and their passengers to wear a helmet that meets certain safety standards while riding on public roads. The laws regarding motorcycle helmets in the UK are as follows:
Helmet Standards: The helmet must comply with one of the following safety standards: British Standard BS 6658:1985 and carries the BSI Kitemark, UNECE Regulation 22.05 (European ECE 22.05) and bears a label showing compliance, or any standard accepted by a member of the European Economic Area that offers an equivalent level of safety.
Helmet Fitment: The helmet should be securely fastened and properly fitted to ensure maximum protection. It should cover the forehead and fit snugly without being too tight or loose.
Visor or Goggles: If your helmet does not have an integral visor, you must wear goggles or other eye protection that meets British Standard BS 4110 or UNECE Regulation 22.05.
Motorcycle Trikes: If you are riding a motorcycle trike (a three-wheeled vehicle), you are not legally required to wear a helmet unless you are carrying passengers.
It's important to note that failure to comply with these laws can result in penalties and fines imposed by law enforcement authorities. Additionally, wearing an approved helmet is not only a legal requirement but also crucial for your own safety while riding a motorcycle.
Always ensure that your helmet is well-maintained, undamaged, and replaced if it has been involved in an accident or shows signs of wear and tear. By adhering to these regulations, you can enjoy your motorcycle journey while prioritizing your safety on UK roads.
How often should I replace my motorcycle helmet?

Replacing your motorcycle helmet at regular intervals is essential to ensure optimal safety and protection. Over time, helmets can deteriorate due to various factors, including wear and tear, exposure to sunlight, and impact damage. Here are some guidelines on when to replace your motorcycle helmet:
Age: Most manufacturers recommend replacing your helmet every 3 to 5 years, regardless of its condition. The materials used in helmets can degrade over time, affecting their ability to provide adequate protection.
Damage: If your helmet has been involved in an accident or suffered a significant impact, it is crucial to replace it immediately. Even if the damage is not visible, the integrity of the helmet may be compromised, reducing its effectiveness in future accidents.
Wear and Tear: Regular use can cause wear and tear on your helmet's components such as the padding, straps, and visor mechanism. If you notice any signs of deterioration like loose padding, frayed straps, or a malfunctioning visor, it's time for a replacement.
Fit: As helmets age or are subjected to prolonged use, their internal padding may compress or lose its shape. A proper fit is crucial for optimal protection; therefore, if your helmet no longer fits snugly on your head despite adjustments, it may be time for a new one.
Certification Standards: Helmet safety standards evolve over time as technology improves. Consider replacing your helmet if it does not meet current safety certifications such as ECE 22.05 or British Standard BS 6658:1985.
Manufacturer Recommendations: Always refer to the manufacturer's guidelines regarding the lifespan of your specific helmet model. Different brands and models may have different recommendations based on their design and materials used.
Remember that compromising on safety by using an old or damaged helmet puts you at higher risk of severe head injuries in case of an accident. It is always better to err on the side of caution and invest in a new helmet when necessary. Your safety should be the top priority when riding, so make sure to regularly assess the condition of your helmet and replace it as needed.