Ride with Confidence and Responsibility: Essential Motorcycling Safety Guidelines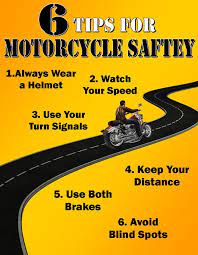 Motorcycling Safety Guidelines: Riding with Confidence and Responsibility
Motorcycling is an exhilarating experience that offers a sense of freedom and adventure like no other. However, it's essential to prioritize safety when riding a motorcycle to ensure a pleasurable and secure journey. By following these motorcycling safety guidelines, riders can enjoy the open road with confidence and responsibility.
Wear Appropriate Protective Gear: Always wear a helmet that meets safety standards to protect your head in case of an accident. Additionally, invest in high-quality protective gear such as gloves, boots, jackets, and pants designed specifically for motorcycling. These items provide crucial protection against abrasions, impacts, and adverse weather conditions.
Maintain Your Motorcycle: Regularly inspect your motorcycle before each ride to ensure it is in good working condition. Check the tires for proper inflation and tread depth, test the brakes for responsiveness, examine lights and signals for functionality, and confirm that all fluids are at appropriate levels. Proper maintenance reduces the risk of mechanical failures while on the road.
Follow Traffic Laws: Obeying traffic laws is crucial for both your safety and that of others on the road. Adhere to speed limits, use turn signals when changing lanes or making turns, come to a complete stop at red lights and stop signs, and always yield right of way when required. Respect traffic rules to prevent accidents caused by reckless or careless riding.
Be Visible: Enhance your visibility on the road by wearing brightly colored clothing or reflective gear during both day and night rides. Ensure your motorcycle has working headlights, taillights, brake lights, and turn signals. Being visible to other motorists significantly reduces the chances of being involved in a collision.
Practice Defensive Riding: Adopt a defensive riding mindset by anticipating potential hazards on the road ahead. Stay alert for distracted drivers or sudden lane changes from other vehicles. Maintain a safe distance from vehicles in front of you, allowing ample time to react to any sudden stops or maneuvers. Always be aware of your surroundings and ride defensively to avoid unnecessary risks.
Stay Sober: Never ride a motorcycle under the influence of alcohol or drugs. Impaired judgment, reduced reaction times, and compromised coordination significantly increase the likelihood of accidents. If you plan on consuming alcohol or medication that may impair your abilities, it is best to find an alternative means of transportation.
Continuous Training and Skill Development: Motorcycling skills can always be improved, regardless of experience level. Consider enrolling in advanced riding courses or safety training programs that focus on defensive riding techniques and emergency maneuvering. These courses provide valuable knowledge and practice that can enhance your riding skills and decision-making abilities.
Ride Within Your Comfort Zone: Know your limits as a rider and stay within them. Avoid taking unnecessary risks or attempting maneuvers beyond your skill level. Gradually challenge yourself as you gain more experience, but never compromise safety for the sake of thrill-seeking.
Remember, motorcycling safety is a shared responsibility between riders and other road users. By adhering to these guidelines, riders can contribute to a safer riding environment for everyone on the road. Embrace the joy of motorcycling while prioritizing safety at all times — it's the key to enjoying countless miles of adventure with peace of mind!
Frequently Asked Questions: Motorcycling Safety Guidelines in the UK
What protective clothing should I wear when riding a motorcycle?

When riding a motorcycle, it is crucial to wear appropriate protective clothing to safeguard yourself in case of an accident or fall. Here are some essential items of protective gear that every rider should consider wearing:
Helmet: A high-quality helmet is the most important piece of protective gear. It should meet safety standards and fit properly, covering your entire head. Choose a helmet that provides impact protection, good ventilation, and a secure strap system.
Jacket: A motorcycle jacket made of abrasion-resistant materials like leather or textile with reinforced padding or armor is recommended. It should cover your arms, shoulders, and back to protect against road rash and impact injuries.
Pants: Opt for pants specifically designed for motorcycling that offer protection against abrasions and impacts. Leather or textile pants with built-in armor or padding in critical areas such as hips and knees are ideal.
Gloves: Invest in sturdy gloves that cover your hands fully and provide protection for your palms, fingers, and knuckles. Look for gloves made from durable materials with added grip to maintain control of the bike's handlebars.
Boots: Wear boots that cover your ankles and provide good support and protection for your feet while riding. Sturdy footwear with oil-resistant soles will help you maintain stability on the bike's foot controls.
Eye Protection: Protect your eyes from debris, wind, insects, and other hazards by wearing a face shield attached to your helmet or goggles specifically designed for motorcycle use. Ensure they provide clear vision without distortion.
It's important to note that wearing all the appropriate protective gear significantly reduces the risk of injuries while riding a motorcycle. Remember to choose gear that fits properly without being too loose or restrictive as it may hinder movement or comfort while riding.
Additionally, consider wearing high-visibility clothing during daytime rides or reflective gear during nighttime rides to enhance visibility to other motorists on the road.
Prioritizing safety by wearing the right protective clothing is a crucial aspect of responsible motorcycling. It helps ensure that you can enjoy your ride with peace of mind, knowing that you have taken steps to protect yourself in case of any unforeseen circumstances.
How can I ensure my motorcycle is safe to ride?

Ensuring your motorcycle is safe to ride is essential for your well-being on the road. Here are some key steps to follow:
Regular Maintenance: Regularly inspect your motorcycle and perform routine maintenance tasks. Check the tires for proper inflation and tread wear, test the brakes for responsiveness, examine lights and signals for functionality, and confirm that all fluids (such as oil and coolant) are at appropriate levels.
Brakes: The braking system is critical for your safety. Regularly check the brake pads or shoes for wear and replace them if necessary. Ensure that the brake fluid is clean and at the correct level. If you notice any unusual noises or a decrease in braking performance, have a professional mechanic inspect your brakes.
Lights: Ensure that all lights on your motorcycle are working properly. Check headlights, taillights, brake lights, turn signals, and indicators regularly to ensure visibility to other road users.
Tires: Inspect your tires before each ride. Look for signs of wear, cracks, bulges, or embedded objects like nails or glass shards. Check tire pressure using a reliable gauge and maintain it according to the manufacturer's recommendations.
Suspension: A well-functioning suspension system ensures stability and control while riding. Inspect forks, shocks, and other suspension components regularly for leaks or damage.
Controls: Check that all controls on your motorcycle are functioning correctly, including the throttle, clutch lever (if applicable), front brake lever, rear brake pedal, gear shifter (if applicable), horn, and mirrors.
Chain (if applicable): If your motorcycle has a chain drive system, ensure that it is properly lubricated and adjusted according to the manufacturer's specifications.
Electrical System: Inspect the battery terminals regularly to ensure they are clean and securely attached. Check wiring connections for any signs of damage or corrosion.
Fuel System: Keep an eye on the fuel system, including the fuel tank, fuel lines, and carburetor (if applicable). Ensure there are no leaks or blockages that could affect performance or safety.
Test Ride: Before embarking on a longer journey or after performing any maintenance tasks, take a short test ride to ensure everything feels and operates as it should. Pay attention to any unusual noises, vibrations, or handling issues.
If you're unsure about performing any maintenance tasks yourself, it's recommended to consult a qualified mechanic or take your motorcycle to an authorized service center. They have the expertise and tools necessary to ensure your motorcycle is in optimal condition for safe riding. Remember, regular maintenance is key to keeping yourself safe on the road and prolonging the life of your motorcycle.
What are the legal requirements for motorcyclists in the UK?

In the UK, motorcyclists must adhere to specific legal requirements to ensure their safety and the safety of others on the road. These requirements include:
Valid License: Motorcyclists must hold a valid motorcycle license that is appropriate for the category of motorcycle they are riding. There are different license categories based on age, experience, and motorcycle size/power.
Minimum Age: The minimum age to ride a motorcycle in the UK depends on the category of license held. For example, riders must be at least 16 years old to ride a moped (up to 50cc) and 17 years old for motorcycles with a higher engine capacity.
Motorcycle Insurance: It is mandatory for all motorcyclists in the UK to have valid insurance coverage that meets at least the minimum legal requirements. This insurance provides financial protection in case of accidents or injuries caused by the rider.
Vehicle Tax: Motorcycles are subject to vehicle tax in the UK, which must be paid annually or through monthly installments depending on the preference of the owner.
MOT Certificate: Motorcycles over three years old must undergo an annual Ministry of Transport (MOT) test to ensure they meet safety and environmental standards.
Helmet Use: The law requires all motorcyclists and their passengers in the UK to wear a helmet that meets specific safety standards (e.g., British Standard BS 6658:1985 or ECE Regulation 22.05). The helmet should be securely fastened and properly fitted.
Protective Clothing: While not legally required, it is strongly recommended for motorcyclists to wear appropriate protective clothing such as gloves, boots, jackets, and pants designed for motorcycling. This gear offers additional protection against injuries in case of an accident.
Lights and Indicators: Motorcycles must have working headlights, taillights, brake lights, indicators, and reflectors that comply with legal requirements. These lights are crucial for visibility and signaling intentions to other road users.
Noise Limits: Motorcycles must comply with noise regulations to prevent excessive noise pollution. Exhaust systems should not exceed specified noise limits set by law.
Traffic Laws: Motorcyclists must follow all traffic laws and regulations, including speed limits, traffic signals, and road signs. Failure to adhere to these laws can result in fines, penalties, or even the suspension of the rider's license.
It is important for motorcyclists in the UK to stay updated on any changes in legal requirements and ensure compliance to maintain their safety and legal standing while riding on public roads.
Are there any specific rules for riding a motorcycle on public roads?

Yes, there are specific rules and regulations that apply to riding a motorcycle on public roads. These rules may vary slightly depending on the country or region, but here are some common guidelines:
Licensing: Ensure that you possess a valid motorcycle license or endorsement, as required by your local authorities. This typically involves passing a written test and a practical riding examination.
Registration and Insurance: Your motorcycle must be properly registered with the appropriate authorities and display a valid license plate. Additionally, it is essential to have insurance coverage that meets the legal requirements of your jurisdiction.
Traffic Laws: Motorcyclists are expected to follow all traffic laws and regulations, just like any other motor vehicle operator. This includes obeying speed limits, traffic signals, stop signs, and lane markings.
Lane Positioning: Motorcycles have the advantage of maneuverability within their lane. However, it is generally recommended to ride in the center of the lane to ensure visibility and discourage vehicles from attempting to share the same space.
Use of Signals: Always use your motorcycle's turn signals to indicate your intentions when changing lanes or making turns. Clear communication with other road users is crucial for safety.
Helmet Laws: Many jurisdictions require motorcyclists to wear helmets that meet specific safety standards while riding on public roads. Even in areas where helmet use is not mandated by law, it is strongly advised for personal safety.
Passenger Rules: If carrying a passenger on your motorcycle, make sure they have an appropriate seat and footrests for comfort and stability. Both you as the rider and your passenger should wear proper protective gear.
Prohibited Actions: Avoid engaging in dangerous behaviors such as reckless speeding, weaving through traffic, or performing stunts on public roads. These actions not only endanger yourself but also put others at risk.
Right of Way: Understand and respect right-of-way rules at intersections and when merging into traffic. Yield to pedestrians, follow the appropriate order of traffic signals, and be cautious when entering or crossing intersections.
Impaired Riding: It is illegal and highly dangerous to operate a motorcycle while under the influence of alcohol or drugs. Impaired riding significantly impairs judgment, reaction times, and coordination, increasing the risk of accidents.
It's important to familiarize yourself with the specific laws and regulations in your area by consulting your local department of motor vehicles or transportation authority. Adhering to these rules ensures your safety and contributes to a harmonious sharing of the road with other motorists.
How can I increase my visibility when riding a motorcycle?

Increasing visibility while riding a motorcycle is crucial for your safety on the road. Here are some tips to enhance your visibility:
Wear High-Visibility Gear: Choose brightly colored gear, such as jackets, vests, or helmets in fluorescent colors like neon yellow, orange, or green. These colors stand out and make you more visible to other motorists, especially in low-light conditions.
Reflective Materials: Invest in gear with reflective strips or panels that reflect light from headlights. These reflective materials can significantly increase your visibility at night or in low-light situations.
Use Proper Lighting: Ensure that all your motorcycle lights are in good working condition. Use your headlights during the day as well to increase visibility. Consider upgrading to brighter bulbs or installing additional auxiliary lights to improve your presence on the road.
Signal Clearly: Always use your turn signals well in advance when changing lanes or making turns. Make sure they are working correctly and are visible to other drivers.
Lane Positioning: Position yourself strategically within your lane to maximize visibility. Ride towards the center of the lane when possible, as it gives you a better chance of being seen by drivers ahead and in adjacent lanes.
Avoid Blind Spots: Stay out of other vehicles' blind spots whenever possible. Be aware of where cars' mirrors are pointed and adjust your position accordingly to ensure they can see you.
Maintain Distance: Maintain a safe distance from vehicles ahead of you, especially large trucks or buses that may obstruct the view of drivers behind them. Keeping a safe following distance allows other motorists to see you clearly and gives you more time to react if needed.
Communication through Body Language: Use hand signals along with turn signals when appropriate, especially when changing lanes or making turns at intersections. Clear communication through body language can help ensure that other road users understand your intentions.
Stay Alert and Predictable: Avoid sudden movements or erratic riding behavior. Stay focused, scan your surroundings, and anticipate potential hazards. Riding predictably makes it easier for other drivers to anticipate your movements.
Regular Maintenance: Keep your motorcycle in good condition by regularly cleaning and maintaining the lights, reflectors, and mirrors. Ensure they are clean and free from dirt or debris that could obstruct visibility.
Remember, enhancing visibility is not solely the responsibility of other motorists; it's also up to you as a rider to take proactive steps to be seen on the road. By implementing these visibility-enhancing strategies, you can greatly reduce the risk of accidents and ride with confidence.
What safety measures should I take before taking a long journey on my motorcycle?

Before embarking on a long journey on your motorcycle, it's crucial to take certain safety measures to ensure a smooth and secure ride. Here are some essential steps to consider:
Motorcycle Inspection: Thoroughly inspect your motorcycle before the trip. Check the tires for proper inflation and tread wear, examine the brakes for responsiveness, test all lights and signals, and ensure that all fluids (such as oil and coolant) are at appropriate levels. Address any maintenance or repair issues beforehand.
Gear Up: Wear appropriate protective gear to safeguard yourself during the journey. This includes a DOT-approved helmet, sturdy riding jacket and pants, gloves, boots that cover the ankles, and eye protection (such as goggles or a visor). Dress in layers to adapt to changing weather conditions.
Plan Your Route: Plan your journey in advance, considering factors like distance, road conditions, traffic patterns, and weather forecasts. Choose well-maintained roads with rest stops along the way if possible. Familiarize yourself with alternate routes in case of unexpected road closures or detours.
Pack Smart: Pack only what you need for the trip while keeping weight distribution in mind. Use secure saddlebags or a top box to store your belongings rather than overloading yourself with backpacks or loose items that could affect balance or visibility.
Check Weather Conditions: Stay updated on weather conditions along your route before setting off. Avoid riding in severe weather like heavy rainstorms, strong winds, or snowstorms if possible. If you encounter adverse weather during the journey, find shelter until conditions improve.
Stay Hydrated and Energized: Long rides can be physically demanding; therefore, stay hydrated by drinking plenty of water throughout the trip. Take regular breaks to stretch your legs and avoid fatigue. Consider carrying energy-rich snacks to maintain focus during extended periods of riding.
Share Your Itinerary: Inform someone trustworthy about your travel plans, including your route, estimated time of arrival, and contact information. Regularly update them on your progress during the journey. This ensures that someone is aware of your whereabouts in case of an emergency.
Carry Emergency Supplies: Pack a basic toolkit, tire repair kit, first aid kit, and a fully charged mobile phone for emergencies. It's also advisable to carry extra water, snacks, and a map or GPS device to navigate unfamiliar areas.
Ride Defensively: Maintain a defensive riding mindset throughout the journey. Stay alert and focused on the road ahead, anticipate potential hazards, and maintain a safe following distance from other vehicles. Be mindful of fatigue and take breaks when needed.
Stay Visible: Wear high-visibility gear or brightly colored clothing to enhance your visibility to other motorists. Use your motorcycle's headlights even during daylight hours for added visibility.
Remember that safety should always be your top priority when embarking on a long motorcycle journey. By taking these precautions and being prepared for the unexpected, you can enjoy your trip with peace of mind while experiencing the thrill of the open road.
Is it necessary to take an approved motorcycling safety course before riding a motorcycle in the UK?

In the UK, it is not a legal requirement to take an approved motorcycling safety course before riding a motorcycle. However, it is highly recommended for individuals who are new to motorcycling or those who wish to enhance their riding skills.
Taking an approved motorcycling safety course offers several benefits. Firstly, it provides comprehensive training on essential skills, techniques, and road awareness that can significantly improve your safety on the road. These courses cover topics such as controlling the motorcycle, proper braking techniques, hazard perception, and defensive riding strategies.
Moreover, completing a motorcycling safety course may also make you eligible for insurance discounts from certain providers. Insurance companies often view riders who have received formal training as less risky and more responsible road users.
There are various types of motorcycling safety courses available in the UK, ranging from basic training for beginners to advanced courses for experienced riders. The most recognized and widely taken course is the Compulsory Basic Training (CBT), which is required for those wishing to ride a motorcycle or scooter on public roads with a provisional license.
Ultimately, while it may not be legally required to take an approved motorcycling safety course in the UK, investing in professional training can greatly enhance your riding skills and overall safety on the road. It is always advisable to prioritize your well-being by considering such courses before embarking on your motorcycling journey.