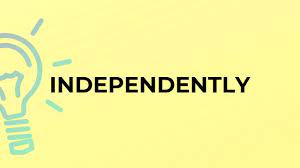 Independently: Embracing the Power of Self-Reliance
In a world that often emphasizes the importance of teamwork and collaboration, it is easy to overlook the value of independence. However, there is a certain strength and empowerment that comes from being self-reliant and embracing the ability to stand on one's own.
Independence is not about isolation or rejecting support from others. Instead, it is about cultivating a sense of autonomy, self-confidence, and resilience. It means taking ownership of our lives and decisions, relying on our own skills and abilities to navigate through challenges and pursue our goals.
One of the key benefits of independence is freedom. When we are independent, we have the liberty to make choices that align with our values and aspirations. We are not bound by external expectations or limitations imposed by others. This freedom allows us to explore our true potential, discover new paths, and chart our own course in life.
Moreover, independence fosters personal growth and development. When we rely on ourselves for solutions and take responsibility for our actions, we learn valuable lessons along the way. We become more adaptable, resourceful, and resilient in the face of adversity. Independence pushes us out of our comfort zones, encouraging us to take risks, embrace challenges, and grow as individuals.
Independence also nurtures self-belief. When we accomplish tasks independently or overcome obstacles on our own accord, it boosts our confidence in our abilities. This self-assurance permeates into other areas of life as well – from personal relationships to professional endeavors – enabling us to tackle new opportunities with determination and conviction.
However, it is important to acknowledge that independence does not mean complete self-sufficiency or an aversion to seeking help when needed. Interdependence plays an equally vital role in our lives. Recognizing when collaboration or support from others can enhance our journey is a sign of wisdom rather than weakness.
To cultivate greater independence in your life, start by embracing self-reflection. Understand your strengths, weaknesses, and areas for growth. Set goals that align with your values and take steps towards achieving them. Seek opportunities to learn new skills and expand your knowledge base. Embrace challenges as opportunities for personal development rather than setbacks.
Surround yourself with a supportive network of individuals who encourage your independence and provide guidance when necessary. Engage in open communication, share ideas, and collaborate with others while maintaining your own sense of identity and autonomy.
Remember, independence is not a destination but an ongoing journey. It requires continuous self-awareness, adaptability, and perseverance. Embracing the power of self-reliance can lead to a life filled with personal fulfillment, growth, and the ability to navigate the ever-changing landscape of our world with confidence. So dare to be independent – it's an empowering choice that can shape the course of your life in remarkable ways.
5 Essential Tips for Independent Work: Setting Achievable Goals, Taking Regular Breaks, Making a Plan, Seeking Help, and Celebrating Successes
Set achievable goals

Setting Achievable Goals: Empowering Your Independence
When it comes to embracing independence, one of the most effective strategies is setting achievable goals. By defining clear objectives that are within our reach, we empower ourselves to take charge of our lives and make steady progress towards our aspirations.
Setting achievable goals provides us with a sense of direction and purpose. It allows us to break down our larger ambitions into smaller, manageable steps. This approach not only helps us stay focused but also builds a foundation for success.
The key to setting achievable goals lies in finding the right balance between ambition and feasibility. While it's important to dream big, it's equally crucial to be realistic and consider our available resources, skills, and time constraints. Setting overly lofty goals can lead to frustration and discouragement if they seem unattainable.
To set achievable goals effectively, start by clarifying your vision. What do you want to accomplish? Be specific about what you aim to achieve and why it matters to you. This clarity will serve as a guiding light throughout your journey.
Next, break down your larger goal into smaller milestones or tasks. These bite-sized objectives should be challenging enough to keep you engaged but still attainable with effort and dedication. Each milestone achieved will give you a sense of accomplishment and motivate you to keep moving forward.
It is also important to set deadlines for each milestone or task. Deadlines create a sense of urgency and help prevent procrastination. However, ensure that the deadlines are reasonable and allow for flexibility when needed.
Regularly review your progress against these milestones. Celebrate your achievements along the way, no matter how small they may seem. Acknowledging your progress boosts motivation and reinforces the belief that you are capable of achieving even more.
Remember that setbacks are a natural part of any journey towards independence. If you encounter obstacles or face temporary setbacks, reassess your approach rather than giving up on your goals entirely. Modify your plan, seek support or guidance if needed, and keep pushing forward.
Setting achievable goals is a powerful tool for cultivating independence. It empowers us to take control of our lives, make consistent progress, and build resilience. With each goal achieved, we gain confidence in our abilities and develop a greater sense of self-reliance.
So, whether you're aiming to learn a new skill, start a business, or embark on a personal transformation, remember the importance of setting achievable goals. By doing so, you'll unlock your potential and pave the way for a fulfilling journey towards independence.
Take regular breaks

Taking Regular Breaks: A Key to Independence and Productivity
In the pursuit of independence, it's crucial to remember the importance of taking regular breaks. While it may seem counterintuitive, stepping away from our tasks and responsibilities can actually enhance our ability to work independently and boost overall productivity.
When we work continuously without breaks, our focus tends to wane, and our energy levels can dwindle. Our minds become fatigued, making it harder to concentrate and make effective decisions. This can lead to decreased efficiency, increased errors, and a general sense of burnout.
By incorporating regular breaks into our routine, we give ourselves an opportunity to recharge both mentally and physically. Stepping away from our work allows us to clear our minds, regain perspective, and return with renewed energy and focus.
Breaks provide a chance for relaxation and rejuvenation. Whether it's taking a short walk outside, engaging in a hobby or activity we enjoy, or simply sitting quietly with a cup of tea or coffee, these moments of respite allow us to disconnect from work-related stressors and recharge our mental batteries.
Moreover, breaks can enhance creativity and problem-solving abilities. Stepping away from a task allows our minds to wander freely. It is during these moments that novel ideas often arise or solutions to complex problems suddenly become clear. By giving ourselves space for reflection and letting go of immediate concerns temporarily, we open ourselves up to fresh perspectives and innovative thinking.
Taking regular breaks also promotes overall well-being. It allows us time for self-care activities such as stretching exercises or mindfulness practices that help reduce stress levels. By prioritizing self-care in this way, we are better equipped to handle challenges independently and maintain a healthy work-life balance.
To incorporate regular breaks effectively into your routine:
Schedule break times: Set specific intervals throughout your day for short breaks. This helps you stay disciplined in taking time away from your tasks regularly.
Disconnect from work: During your breaks, avoid checking work-related emails or engaging in tasks that keep you mentally tied to work. Use this time to engage in activities that bring you joy and relaxation.
Move your body: Physical activity during breaks can help increase blood flow and energy levels. Take a walk, do some stretching exercises, or engage in any form of movement that suits you.
Practice mindfulness: Use your breaks as an opportunity to practice mindfulness techniques such as deep breathing or meditation. This can help calm your mind and improve focus when you return to your tasks.
Remember, taking regular breaks is not a sign of laziness or lack of dedication; it is a strategy for maintaining productivity, promoting well-being, and fostering independence. So, embrace the power of regular breaks and witness the positive impact they have on your ability to work independently and achieve your goals with greater efficiency and satisfaction.
Make a plan

Make a Plan: The Key to Independent Success
When it comes to achieving independence, one of the most effective strategies is to make a plan. A well-thought-out plan serves as a roadmap, guiding us towards our goals and helping us navigate the challenges along the way.
Making a plan provides structure and clarity. It allows us to break down our objectives into smaller, manageable steps, making them less daunting and more achievable. By outlining the specific actions we need to take, we gain a sense of direction and purpose.
A plan also helps us prioritize our tasks and allocate our resources effectively. It allows us to identify what needs to be done first and what can be tackled later. This ensures that we make the most efficient use of our time, energy, and resources.
Moreover, having a plan instills confidence in our abilities. When we have a clear roadmap in front of us, it reduces uncertainty and anxiety. We know what steps to take next, which eliminates guesswork and allows us to focus on executing our plan with determination.
However, it is important to remember that plans are not set in stone. Life is unpredictable, and circumstances can change. Therefore, flexibility is key. Being open to adjusting our plans when necessary allows us to adapt to new situations without losing sight of our ultimate goals.
To create an effective plan for independence:
Define your goals: Clearly identify what you want to achieve. Whether it's personal growth, career advancement or any other aspect of life, clearly define your objectives.
Break it down: Break your goals into smaller milestones or tasks that are easier to manage and measure progress against.
Set deadlines: Assign realistic deadlines for each milestone or task within your plan. This helps create a sense of urgency and keeps you accountable.
Prioritize: Determine which tasks are most important or time-sensitive so you can focus on them first.
Seek support: Don't hesitate to seek advice or assistance from others who have expertise or experience in areas related to your goals. Collaboration and support can enhance your journey towards independence.
Review and adjust: Regularly review your plan, assess progress, and make any necessary adjustments based on new information or changing circumstances.
Remember, making a plan is just the first step. Execution is equally important. Stay committed, stay focused, and take consistent action towards your goals. With a well-crafted plan as your guide, you'll be well on your way to achieving the independence you desire.
Ask for help

Independently: The Strength in Seeking Support
When we think of independence, the idea of asking for help may seem contradictory. However, one of the most powerful aspects of being independent is recognizing when to seek support from others. Asking for help is not a sign of weakness but rather a testament to our self-awareness and willingness to grow.
We all face challenges and obstacles in life that can be overwhelming to tackle alone. By reaching out for assistance, we tap into the collective wisdom and experience of those around us. Seeking help allows us to gain new perspectives, learn from others' expertise, and find innovative solutions that we may not have considered on our own.
Asking for help also fosters connections and builds relationships. It creates opportunities for collaboration and teamwork, strengthening bonds with friends, family, colleagues, or mentors. When we open ourselves up to receiving support, we create an environment where others feel comfortable seeking our guidance as well.
Moreover, asking for help can save time and energy. Instead of struggling through a problem or task alone, reaching out to someone who has already mastered it can provide valuable shortcuts or insights. This allows us to focus our efforts on areas where our unique skills and strengths shine brightest.
However, it's important to approach asking for help with humility and gratitude. Recognize that seeking assistance is not an entitlement but a privilege granted by those willing to lend a hand. Show appreciation for the support received by expressing gratitude and offering assistance in return whenever possible.
To embrace the strength in seeking support independently, start by acknowledging your own limitations. Understand that no one possesses all the answers or abilities. Identify areas where you could benefit from input or guidance from others.
Next, create a supportive network around you – individuals who inspire trust and are willing to offer their expertise when needed. Cultivate relationships based on mutual respect and genuine care so that asking for help becomes an organic part of your interactions.
When seeking assistance, be clear and specific about what you need. This helps others understand how they can best support you. Listen actively to their advice or suggestions, and be open to considering different perspectives.
Remember, asking for help is not a sign of weakness but a testament to your courage and self-awareness. It takes strength to recognize when you need assistance and the willingness to learn from others. By embracing the power of seeking support independently, you can navigate life's challenges with greater ease, foster meaningful connections, and continue on your journey towards personal growth and success.
Celebrate successes

When we embark on a journey of independence, it's important to remember to celebrate our successes along the way. Celebrating our achievements not only boosts our morale but also reinforces the idea that we are capable of accomplishing great things on our own.
In a society that often focuses on the next goal or milestone, taking the time to acknowledge and celebrate our victories can be easily overlooked. However, celebrating successes is crucial for maintaining motivation, self-confidence, and overall well-being.
Each step forward, no matter how small, deserves recognition. Whether it's completing a challenging project at work, reaching a personal goal, or overcoming a difficult obstacle, these accomplishments are milestones in our journey towards independence.
Celebrating successes allows us to reflect on how far we've come and appreciate the effort we've put into achieving our goals. It serves as a reminder of our abilities and strengths, boosting our self-belief and encouraging us to continue striving for excellence.
Moreover, celebrating successes provides an opportunity for gratitude. It allows us to express appreciation for the support we may have received along the way – whether from friends, family, mentors or even ourselves. Recognizing those who have contributed to our success fosters a sense of connection and encourages positive relationships.
So how can we celebrate our successes? The approach can vary depending on personal preferences. Some may choose to treat themselves with something special – perhaps indulging in their favorite meal or enjoying a relaxing day off. Others may prefer sharing their achievements with loved ones through heartfelt conversations or small gatherings.
It's also important to remember that celebration doesn't always have to be grand or extravagant. Even simple acts like giving ourselves words of encouragement or writing down our achievements in a journal can go a long way in recognizing and appreciating what we have accomplished independently.
By celebrating successes along the path of independence, we infuse positivity into our lives and nurture an environment of self-empowerment. Each victory becomes a stepping stone towards even greater accomplishments, reinforcing our belief in our abilities and fueling our motivation to continue pursuing our dreams.
So, as you embrace your journey of independence, take a moment to pause and celebrate each milestone. Acknowledge your hard work, appreciate the progress you've made, and let the joy of success fuel your continued pursuit of independence and personal growth.