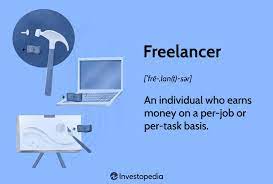 The Rise of Freelancing: Embracing the Freedom and Flexibility
In recent years, there has been a significant shift in the way people work. The traditional 9-to-5 office job is no longer the only path to success. Instead, an increasing number of individuals are embracing the world of freelancing, redefining what it means to have a career.
So, what exactly is freelancing? In simple terms, it refers to working independently on a project-to-project basis, without being tied down to a single employer. Freelancers are essentially their own bosses, choosing when and where they work, and with whom they collaborate.
One of the most appealing aspects of freelancing is the freedom it offers. No longer confined to a rigid schedule or location, freelancers have the flexibility to create their own work-life balance. They can choose projects that align with their interests and skills, allowing them to pursue their passions while earning a living.
Another advantage of freelancing is the potential for increased income. By working on multiple projects simultaneously or taking on high-paying assignments, freelancers have the opportunity to earn more than they would in a traditional job. Additionally, as they gain experience and build a strong reputation within their industry, they can command higher rates for their services.
Freelancing also opens up doors for personal growth and development. When you're not limited by company policies or hierarchies, you have the freedom to explore new areas and expand your skill set. Freelancers often find themselves constantly learning and adapting to stay relevant in an ever-evolving market.
However, it's important to note that freelancing isn't without its challenges. As an independent worker, you are responsible for finding clients, managing your finances, and ensuring a steady workflow. It requires self-discipline, organization skills, and the ability to market yourself effectively.
Fortunately, there are numerous resources available for freelancers today. Online platforms connect freelancers with clients from around the world, making it easier to find work and build a network. Additionally, communities of freelancers provide support, advice, and opportunities for collaboration.
The rise of technology has played a significant role in the growth of the freelance economy. With the ability to work remotely and communicate seamlessly, freelancers can serve clients globally without ever leaving their homes. This has opened up a world of possibilities for individuals seeking a more flexible and fulfilling career.
In conclusion, freelancing has emerged as a viable and attractive career option for many individuals. The freedom, flexibility, and potential for growth make it an appealing choice in today's rapidly changing work landscape. Whether you're a creative professional, a technical expert, or an entrepreneur at heart, freelance offers a unique opportunity to shape your own path and create a fulfilling career on your own terms.
8 Essential FAQs About Freelancing in the UK
How do I find freelance work?

Finding freelance work can be an exciting and rewarding process. Here are some effective strategies to help you get started:
Define your niche: Determine your area of expertise or the services you want to offer as a freelancer. Specializing in a specific field will help you stand out and attract clients who are looking for your particular skills.
Build an online presence: Create a professional website or portfolio showcasing your work, skills, and experience. This will serve as a hub for potential clients to learn more about you and your services.
Utilize freelance platforms: Sign up on reputable freelance platforms such as Upwork, Freelancer, or Fiverr. These platforms connect freelancers with clients seeking their services. Create an appealing profile highlighting your skills, experience, and portfolio.
Network within your industry: Attend industry events, join professional associations, and connect with fellow freelancers or potential clients on social media platforms like LinkedIn. Building relationships and making connections can lead to referrals and new opportunities.
Leverage social media: Utilize social media platforms like Twitter, Instagram, or Facebook to showcase your work, engage with potential clients, and join relevant communities or groups where job opportunities may be shared.
Cold pitching: Identify companies or individuals who may benefit from your services and reach out directly via email or through their website's contact form. Craft personalized pitches highlighting how you can add value to their projects.
Ask for referrals: Reach out to friends, family members, former colleagues, or existing clients and let them know that you are available for freelance work. Word-of-mouth recommendations can be powerful in attracting new clients.
Freelance job boards: Explore dedicated job boards specifically for freelancers such as ProBlogger (for writers), Behance (for designers), or We Work Remotely (for various remote jobs). Regularly check these boards for new opportunities.
Collaborate with agencies or studios: Consider partnering with creative agencies or studios that may have overflow work or need additional freelancers. This can provide a steady stream of projects and help you expand your network.
Be proactive and persistent: Finding freelance work requires consistent effort. Keep refining your skills, updating your portfolio, and actively seeking new opportunities. Remember to follow up on leads and maintain professionalism in all your interactions.
Remember, building a successful freelance career takes time and dedication. By utilizing a combination of these strategies, you can increase your chances of finding rewarding freelance opportunities that align with your skills and goals.
What are the best ways to market myself as a freelancer?

As a freelancer, marketing yourself effectively is crucial to attract clients and build a successful career. Here are some of the best ways to market yourself:
Define your niche: Identify your unique skills, expertise, and target audience. Specializing in a specific niche allows you to position yourself as an expert in that area, making it easier to market your services.
Build an online presence: Create a professional website or portfolio that showcases your work, skills, and experience. Use high-quality visuals and compelling content to make a strong impression on potential clients. Additionally, establish a presence on relevant social media platforms where you can share your expertise and engage with your target audience.
Network strategically: Attend industry events, conferences, and meetups to connect with potential clients and other professionals in your field. Building relationships with like-minded individuals can lead to referrals and collaborations that can boost your visibility.
Utilize freelance platforms: Join reputable online freelance platforms where you can showcase your skills and bid on projects. These platforms provide exposure to a wide range of clients actively seeking freelancers.
Leverage testimonials and reviews: Request feedback from satisfied clients and showcase their testimonials on your website or portfolio. Positive reviews add credibility to your work and help build trust with potential clients.
Offer free content or samples: Provide valuable content through blog posts, tutorials, or free resources related to your field of expertise. This demonstrates your knowledge and helps establish yourself as an authority in the industry.
Collaborate with others: Partner with complementary freelancers or businesses to offer bundled services or joint projects. Collaborations not only expand your network but also allow you to tap into new audiences.
Optimize for search engines: Ensure that your website or portfolio is optimized for search engines by using relevant keywords in your content and meta tags. This helps improve visibility when potential clients search for freelancers in your niche.
Attend webinars or workshops: Participate in webinars or workshops related to your field to enhance your skills and knowledge. These events also provide opportunities to connect with industry experts and potential clients.
Maintain professionalism and deliver quality work: Word-of-mouth referrals are powerful marketing tools. Ensure that you consistently deliver high-quality work, meet deadlines, and maintain professional communication with clients. Satisfied clients are more likely to recommend you to others.
Remember, effective self-marketing requires consistency, perseverance, and a genuine passion for what you do. By implementing these strategies and continuously refining your approach, you can successfully market yourself as a freelancer and attract the right clients for your business.
What skills do I need to become a successful freelancer?

To become a successful freelancer, there are several key skills that can greatly contribute to your professional growth and help you thrive in the competitive freelance market. Here are some essential skills to focus on:
Expertise in Your Field: Possessing a high level of expertise in your chosen field is crucial. Clients seek freelancers who can deliver exceptional work and provide value. Continuously develop and refine your skills to stay ahead of the curve.
Self-Discipline and Time Management: As a freelancer, you are responsible for managing your own time and meeting deadlines. Develop strong self-discipline to stay focused and organized, ensuring that you complete projects on time and maintain a healthy work-life balance.
Communication Skills: Effective communication is vital when working remotely with clients or collaborating with other freelancers. Clear and concise communication helps build trust, prevents misunderstandings, and ensures everyone is on the same page.
Networking: Building a strong professional network is essential for finding new clients, collaborating on projects, and gaining referrals. Attend industry events, join online communities, and actively engage with others in your field to expand your network.
Marketing and Self-Promotion: To succeed as a freelancer, you need to market yourself effectively. Develop skills in personal branding, create an impressive portfolio or website showcasing your work, leverage social media platforms, and actively promote your services to attract clients.
Adaptability: Freelancing often involves working with diverse clients on various projects. Being adaptable allows you to quickly adjust to different requirements, industries, or working styles while maintaining the quality of your work.
Financial Management: As a freelancer, it's important to have good financial management skills. Understand how to price your services competitively, track expenses, invoice clients promptly, save for taxes or retirement plans if applicable, and manage cash flow effectively.
Problem-Solving Abilities: Freelancers often encounter challenges along the way. Developing strong problem-solving skills helps you overcome obstacles, find creative solutions, and deliver high-quality work even in demanding situations.
Continuous Learning: The freelance landscape is ever-evolving, so it's crucial to embrace a mindset of continuous learning. Stay updated with industry trends, new technologies, and emerging best practices to remain competitive and offer the most relevant services to clients.
Professionalism and Reliability: Demonstrating professionalism in all your interactions with clients is essential for building trust and maintaining long-term relationships. Be reliable, deliver on your promises, meet deadlines consistently, and provide exceptional customer service.
Remember that these skills can be developed over time through practice, experience, and a commitment to personal growth. By honing these abilities, you'll increase your chances of becoming a successful freelancer who stands out in the competitive freelance market.
How much should I charge for my services as a freelancer?

Determining the right pricing for your freelance services can be a challenging task. It's crucial to strike a balance that reflects the value you provide while remaining competitive in the market. Here are some factors to consider when determining your rates:
Evaluate Your Skills and Expertise: Consider your level of experience, specialized knowledge, and unique skills that set you apart from others in your field. The more expertise you bring to the table, the higher your rates can be.
Research Market Rates: Conduct thorough research to understand the average rates charged by freelancers in your industry and location. This will give you a general idea of what clients are willing to pay.
Calculate Your Costs: Determine your business expenses, including overhead costs, taxes, insurance, software subscriptions, and any other expenses related to running your freelance business. Make sure to include these costs when setting your rates.
Consider Time and Effort: Assess the amount of time and effort required to complete a project successfully. Factor in tasks such as research, communication with clients, revisions, and administrative work when determining your pricing.
Value-Based Pricing: Focus on the value you provide to clients rather than solely basing it on hours worked. If your services can help clients save money or generate more revenue, consider charging a higher rate that reflects this added value.
Competitive Analysis: Analyze what other freelancers with similar skills and experience are charging for their services. While it's essential not to undervalue yourself, being overly expensive may deter potential clients.
Start with a Base Rate: Set a base rate that covers your basic costs and desired income level. From there, adjust it based on project complexity, scope, client budget constraints, or any additional services requested.
Test and Adjust: As you gain experience and work with different clients, assess how well your rates are received and whether they align with market expectations. Be open to adjusting your rates over time based on feedback and market demand.
Remember, pricing is subjective, and there is no one-size-fits-all approach. It's crucial to find a balance that both you and your clients are comfortable with. Don't be afraid to negotiate or offer different pricing options based on individual client needs. Ultimately, the goal is to ensure that your rates reflect the value you provide while remaining competitive in the freelance market.
How can I manage my time effectively when working freelance?

Managing time effectively is crucial for freelancers to ensure productivity and maintain a healthy work-life balance. Here are some tips to help you manage your time effectively:
Set Clear Goals: Start each day by setting clear goals and priorities. Identify the most important tasks that need to be completed and focus on those first. This will help you stay organized and avoid feeling overwhelmed.
Create a Schedule: Establish a schedule that works best for you. Determine your most productive hours and allocate specific blocks of time for different tasks or projects. Having a structured schedule will help you stay on track and make the most of your working hours.
Break It Down: Break down larger projects or tasks into smaller, manageable chunks. This makes them less daunting and allows you to tackle them more efficiently. Set deadlines for each smaller task to keep yourself accountable and motivated.
Prioritize and Delegate: Learn to prioritize your tasks based on their urgency and importance. Focus on high-priority assignments first, but don't hesitate to delegate or outsource certain tasks if it makes sense for your workload or skillset.
Avoid Multitasking: While it may seem productive, multitasking can often lead to decreased efficiency and quality of work. Instead, focus on one task at a time, giving it your full attention until completion before moving on to the next one.
Minimize Distractions: Create a distraction-free workspace by eliminating any unnecessary distractions such as social media notifications or personal phone calls during working hours. Consider using productivity apps or website blockers if needed.
Take Regular Breaks: It's important to give yourself regular breaks throughout the day to recharge and maintain focus. Short breaks can actually enhance productivity by providing mental rest and preventing burnout.
Set Boundaries: Clearly define your working hours and communicate them with clients, colleagues, and family members so they know when you are available for work-related matters. Setting boundaries helps establish a healthy work-life balance.
Practice Time-Blocking: Time-blocking involves assigning specific time slots for different activities or tasks. This technique helps you allocate dedicated time for different projects, meetings, administrative work, and personal activities.
Review and Reflect: Regularly review your progress and reflect on what worked well and what could be improved. Learn from your experiences and adjust your time management strategies accordingly to optimize your productivity.
Remember, effective time management is a skill that takes practice and experimentation to master. Find the techniques that work best for you, stay organized, and be adaptable as you navigate the world of freelancing.
Should I set up a limited company for freelance work?

Deciding whether to set up a limited company for your freelance work is a significant decision that depends on various factors. While I can provide some general information, it's important to consult with a professional accountant or business advisor who can offer personalized advice based on your specific circumstances.
Here are some key points to consider when contemplating setting up a limited company:
Legal and financial implications: Operating as a limited company means creating a separate legal entity. This separation provides liability protection, as the company becomes responsible for its debts and legal obligations. This can help safeguard your personal assets in case of any business-related issues.
Tax considerations: Limited companies have different tax obligations compared to sole traders or self-employed individuals. Companies are subject to corporation tax on their profits, which is typically lower than personal income tax rates. Additionally, you may have more flexibility in managing your tax affairs, including the ability to take dividends instead of salary, potentially resulting in tax advantages.
Professional image and credibility: Some clients may perceive working with a limited company as more professional and trustworthy compared to working with an individual freelancer. Having "Ltd" after your business name might give you an edge when seeking contracts or larger projects.
Administrative responsibilities: Setting up and running a limited company involves additional administrative tasks compared to being self-employed. You'll need to maintain proper accounting records, file annual accounts and tax returns, comply with company law regulations, and potentially hire an accountant or bookkeeper for assistance.
Costs: There are costs associated with setting up and maintaining a limited company, such as registration fees, ongoing accounting fees, and potential additional administrative expenses. Consider whether these costs outweigh the benefits you expect to gain from operating as a limited company.
Ultimately, the decision should be based on careful consideration of your specific situation, long-term goals, financial expectations, and willingness to take on additional responsibilities. Seeking professional advice will help ensure you make an informed choice that aligns with your objectives.
How can I protect myself legally when working as a freelancer?

Protecting yourself legally as a freelancer is crucial to ensure a smooth and secure working experience. Here are some key steps you can take:
Written Contracts: Always use written contracts for your projects, outlining the scope of work, payment terms, deadlines, and any other relevant details. This helps establish clear expectations and protects both parties in case of disputes.
Intellectual Property Rights: Clarify ownership of intellectual property in your contracts. Specify whether you retain ownership or if it transfers to the client upon completion and payment. If necessary, consider including clauses that allow you to showcase your work in your portfolio.
Payment Terms: Clearly state your payment terms in the contract, including the amount, due dates, and any late payment penalties or interest charges. Consider requesting a deposit before starting work to ensure commitment from clients.
Liability and Indemnity: Limit your liability by including indemnity clauses that protect you from legal claims arising from client actions or negligence. Consult with legal professionals to ensure these clauses are properly drafted for your specific situation.
Confidentiality and Non-Disclosure Agreements: If you handle sensitive information or trade secrets during a project, consider using confidentiality or non-disclosure agreements to protect client data and maintain professional integrity.
Insurance Coverage: Explore obtaining professional liability insurance (also known as errors and omissions insurance) to protect yourself against potential claims related to errors in your work or professional negligence.
Copyright Protection: Understand copyright laws in your jurisdiction and consider registering your work with relevant authorities if necessary. This can provide additional protection in case of copyright infringement disputes.
Record Keeping: Maintain thorough records of all project-related communication, contracts, invoices, receipts, and other important documents for future reference or potential legal needs.
Dispute Resolution Mechanisms: Include provisions for dispute resolution in your contracts, such as mediation or arbitration clauses. These alternatives can help resolve conflicts outside of court, saving time and money.
Consult with Legal Professionals: When in doubt or faced with complex legal matters, consult with an attorney or legal professional specializing in freelance or contract law. They can provide valuable advice tailored to your specific circumstances.
Remember, legal requirements and best practices may vary depending on your jurisdiction and the nature of your work. It's important to stay informed about local laws and regulations that pertain to freelancers in your area.
What are the tax implications of being a self-employed freelancer in the UK?

As a self-employed freelancer in the UK, there are several tax implications that you need to be aware of. Here are some key points to consider:
Self-Assessment: As a freelancer, you are responsible for completing a Self-Assessment tax return each year. This involves reporting your income and expenses to calculate your tax liability.
National Insurance Contributions (NICs): As a self-employed individual, you'll need to pay Class 2 and Class 4 NICs. Class 2 NICs are a flat weekly rate, while Class 4 NICs are calculated based on your profits.
Income Tax: Your income from freelancing will be subject to Income Tax. The amount of tax you pay depends on your total income and the tax bands applicable for the given tax year.
Registering for Self-Employment: When you start freelancing, you must register as self-employed with HM Revenue & Customs (HMRC) within three months of commencing business activities.
Keeping Records: It's essential to maintain accurate records of all your income and expenses related to your freelance work. This includes invoices, receipts, bank statements, and any other relevant documents.
Expenses: You can deduct allowable business expenses from your income before calculating your taxable profit. These may include office supplies, travel costs, professional fees, and certain home office expenses.
Value Added Tax (VAT): If your annual turnover exceeds the VAT threshold (currently £85,000 in the UK), you may need to register for VAT and charge VAT on your services or products.
Payments on Account: If your tax bill is above a certain threshold (£1,000), HMRC may require you to make payments on account towards your future tax liabilities.
Seeking Professional Advice: Due to the complexities of self-employment taxation, it's advisable to consult with an accountant or tax advisor who specializes in freelance work. They can help ensure you meet your tax obligations and take advantage of any available deductions or allowances.
Remember, tax regulations can change, so it's important to stay informed about any updates or changes that may affect your self-employed status. Regularly reviewing your financial situation and seeking professional advice will help you navigate the tax implications of being a freelancer in the UK more effectively.