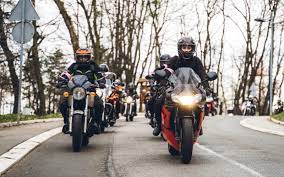 The Thriving Motorcycling Community: A Journey of Passion and Camaraderie
Motorcycling is more than just a mode of transportation; it's a way of life that brings together a vibrant and diverse community of enthusiasts. From the thrill-seeking adrenaline junkies to the casual weekend riders, the motorcycling community is a tight-knit group united by their shared love for two wheels and the open road.
What makes the motorcycling community so special is its ability to transcend boundaries and bring people together from all walks of life. Regardless of age, gender, or background, when you throw a leg over a motorcycle, you become part of something greater – a fellowship built on mutual respect, camaraderie, and an unwavering passion for the ride.
One of the most remarkable aspects of this community is its inclusivity. Whether you're a seasoned rider with decades of experience or a newbie just starting out, there's always room for everyone in the world of motorcycling. Seasoned veterans are often more than happy to share their knowledge and offer guidance to those who are new to the scene. It's this spirit of mentorship and support that helps foster an environment where riders can grow and develop their skills with confidence.
The motorcycling community also thrives on its sense of adventure. From group rides through scenic landscapes to organized events like rallies and charity rides, there's always something happening that brings riders together. These gatherings not only provide an opportunity for like-minded individuals to connect but also serve as platforms for raising awareness about important causes or simply celebrating the joy that comes with being part of this incredible community.
Safety is paramount within the motorcycling community. Riders understand the risks associated with their chosen passion and take proactive measures to ensure their own well-being as well as that of their fellow riders. From wearing proper protective gear to participating in safety training courses, motorcyclists prioritize responsible riding practices and actively work towards creating a safer environment for everyone on the road.
The motorcycling community is also known for its strong sense of charity and giving back. Many riders participate in fundraising events and initiatives to support various causes, ranging from local charities to global organizations. It's heartwarming to witness how this community comes together not only to enjoy their shared passion but also to make a positive impact on the world around them.
In conclusion, the motorcycling community is a vibrant tapestry of individuals who share an unyielding love for motorcycles and the freedom they represent. It's a community that welcomes all, embraces diversity, and fosters a spirit of camaraderie unlike any other. Whether you're riding solo or joining a group, the sense of belonging within this community is palpable. So, if you haven't already experienced the joy of being part of this incredible world, hop on a motorcycle and embark on an adventure that will connect you with like-minded souls who share your passion for two wheels. Welcome to the thriving motorcycling community!
Essential Tips for Engaging in the Motorcycling Community
Wear Appropriate Protective Gear

The Importance of Wearing Appropriate Protective Gear in the Motorcycling Community
When it comes to motorcycling, safety should always be a top priority. One crucial aspect of staying safe on the road is wearing appropriate protective gear. The motorcycling community understands the importance of donning the right gear, and it is a tip that is consistently emphasized and followed by riders around the world.
Wearing protective gear serves two essential purposes: to minimize injuries in case of an accident and to provide comfort during rides. A helmet is perhaps the most critical piece of gear that every rider should wear. It protects the head from potential head injuries, which can be life-threatening or cause long-term damage. Choosing a helmet that meets safety standards and fits properly is crucial for optimal protection.
In addition to helmets, riders should also wear sturdy jackets, pants, and gloves made from durable materials like leather or reinforced textiles. These garments provide protection against abrasions, cuts, and impact injuries. Motorcycle-specific boots with ankle support are also recommended to safeguard feet and ankles from potential injuries.
Another important piece of protective gear often overlooked by riders is eye protection. Wearing goggles or a visor not only shields the eyes from debris but also enhances visibility by reducing glare and protecting against wind-induced drying or tearing.
The motorcycling community recognizes that wearing appropriate protective gear goes beyond personal safety; it sets an example for others on the road as well. By demonstrating responsible riding habits through proper gear usage, riders contribute to creating a culture of safety within their community.
Moreover, wearing protective gear can enhance confidence during rides. When riders feel secure in their equipment, they can focus more on enjoying the experience rather than worrying about potential risks. This increased comfort allows for better concentration on the road ahead and promotes an overall positive riding experience.
In conclusion, wearing appropriate protective gear is a crucial tip that every member of the motorcycling community should follow religiously. By prioritizing safety and donning the right gear, riders not only protect themselves from potential injuries but also contribute to a safer riding environment for all. So, before you hop on your motorcycle for your next adventure, remember to gear up properly and set an example for others in the motorcycling community. Safe travels!
Follow the Rules of the Road

Follow the Rules of the Road: Building a Safe and Respectful Motorcycling Community
In the vibrant world of motorcycling, where freedom and exhilaration intertwine, it's crucial to remember that with great power comes great responsibility. As members of the motorcycling community, it's our duty to ensure the safety and well-being of ourselves, our fellow riders, and all road users. One fundamental way to achieve this is by adhering to the rules of the road.
Road rules exist for a reason – they are designed to protect us and maintain order on our journeys. By following these rules, we contribute to building a safe and respectful motorcycling community that fosters positive interactions with other road users.
First and foremost, always obey speed limits. Speeding not only puts your life at risk but also endangers others around you. It's important to ride at a speed appropriate for the conditions, allowing yourself enough time to react and maneuver safely.
Another crucial aspect is maintaining proper lane discipline. Stay within your designated lane and avoid weaving in and out of traffic. This ensures predictability for other motorists, reducing the likelihood of accidents or misunderstandings on the road.
Signal your intentions clearly by using your indicators when changing lanes or making turns. Signaling communicates your actions to other road users, allowing them to anticipate your movements and adjust accordingly.
Additionally, always keep a safe distance from vehicles in front of you. This gives you ample time to react if sudden braking or evasive maneuvers are required. Remember that motorcycles have shorter stopping distances compared to cars, so maintaining distance is essential for both safety and peace of mind.
Respecting traffic lights and stop signs is equally vital. Treat them as instructions rather than suggestions – come to a complete stop when required, proceed when it's safe to do so, and never run red lights.
Lastly, be mindful of vulnerable road users such as pedestrians or cyclists. Show them the same courtesy and respect you would expect from others while riding. By sharing the road harmoniously, we contribute to a positive image of the motorcycling community.
Following the rules of the road not only promotes safety but also enhances the reputation of our community. It demonstrates our commitment to responsible riding and fosters positive relationships with other road users. By setting a good example, we encourage others to do the same, creating a ripple effect that benefits everyone.
Remember, as members of the motorcycling community, we have a collective responsibility to protect ourselves and others on the road. Let's embrace this responsibility by following the rules of the road and building a safe, respectful, and harmonious motorcycling community for all.
Maintain Your Bike Regularly

Maintain Your Bike Regularly: A Key Pillar of the Motorcycling Community
In the vibrant and passionate world of motorcycling, there's an essential tip that every rider should embrace: maintaining your bike regularly. While the allure of hitting the open road and feeling the wind in your face is undeniably exciting, taking care of your motorcycle is crucial for both your safety and the longevity of your machine.
The motorcycling community understands that regular maintenance is more than just a chore; it's a responsibility and a commitment to keeping yourself and others safe on the road. By dedicating time to inspecting, servicing, and addressing any issues with your bike, you not only enhance its performance but also minimize the risk of unexpected breakdowns or accidents.
Routine maintenance tasks are relatively simple yet immensely important. Start by checking your tires for proper inflation and tread wear. Maintaining optimal tire pressure ensures better handling and grip, while monitoring tread wear helps prevent skidding or loss of control. Additionally, inspecting brake pads, fluids, lights, and signals should be part of your regular checklist to ensure they're all in proper working order.
Oil changes are another critical aspect of motorcycle maintenance. Regularly changing the oil keeps your engine running smoothly by reducing friction and preventing damage caused by contaminants. It's advisable to follow manufacturer recommendations for oil change intervals or consult a trusted mechanic for guidance.
The motorcycling community thrives on knowledge sharing, so don't hesitate to seek advice from experienced riders or join online forums dedicated to motorcycle maintenance. These platforms offer valuable insights into common issues, best practices, and tips on how to keep your bike in peak condition.
Beyond safety considerations, maintaining your bike regularly also contributes to its longevity. By addressing minor issues promptly through routine inspections, you can prevent them from escalating into major problems that may require costly repairs or replacements down the line. Taking care of your machine means it will continue to serve you faithfully on countless memorable rides.
Remember, maintaining your bike regularly is not just an individual responsibility; it's a fundamental principle of the motorcycling community. By prioritizing the upkeep of your motorcycle, you contribute to creating a safer and more enjoyable riding environment for everyone. So, embrace this tip with open arms, make it a part of your motorcycling routine, and enjoy the peace of mind that comes with knowing your bike is always in top shape.
Join the motorcycling community in championing regular maintenance as an essential pillar of responsible riding. Together, let's keep our bikes roadworthy, our journeys unforgettable, and our passion for motorcycling alive and thriving.
Join a Motorcycle Club or Community

Join a Motorcycle Club or Community: Embrace the Thriving Motorcycling Community
When it comes to immersing yourself in the world of motorcycling, one of the best steps you can take is to join a motorcycle club or community. These groups offer a unique opportunity to connect with like-minded individuals who share your passion for two wheels and the open road.
Joining a motorcycle club or community provides numerous benefits. Firstly, it offers a sense of belonging. Being part of a group that shares your enthusiasm for motorcycles creates an instant connection and a feeling of camaraderie. You'll find yourself surrounded by people who understand your love for riding and can relate to the joys and challenges that come with it.
Moreover, motorcycle clubs and communities provide valuable opportunities for learning and growth. Whether you're a beginner seeking guidance or an experienced rider looking to expand your skills, these groups often organize workshops, training sessions, and educational events. By participating in these activities, you can enhance your riding abilities while connecting with seasoned riders who are eager to share their knowledge.
Another significant advantage of joining a motorcycle club or community is the access to organized rides and events. These gatherings allow you to explore new routes, discover breathtaking landscapes, and experience the thrill of riding in a group. From day trips to multi-day adventures, these outings provide an excellent platform for building lasting memories while enjoying the company of fellow riders.
Additionally, being part of a motorcycle club or community opens doors to various social activities. From barbecues and meetups to charity events and fundraisers, these groups offer opportunities beyond riding itself. You'll have chances to engage in meaningful conversations, forge new friendships, and give back to society through collective efforts.
It's important to note that there's no shortage of options when it comes to choosing a motorcycle club or community. Research local clubs in your area or explore online platforms dedicated to motorcycling enthusiasts. Consider factors such as their values, activities, and member demographics to find a group that aligns with your interests and goals.
Joining a motorcycle club or community is an invitation to embrace the vibrant motorcycling community fully. It's an opportunity to connect with passionate individuals, expand your knowledge and skills, explore new horizons, and create lifelong memories. So, if you're ready to take your love for motorcycling to the next level, don't hesitate to join a motorcycle club or community. Embrace the camaraderie, adventure, and support that await you in this thriving community of riders.
Take Safety Courses

Enhance Your Riding Skills: Take Safety Courses in the Motorcycling Community
When it comes to being a part of the motorcycling community, safety should always be a top priority. One of the best ways to ensure your safety on the road is by taking safety courses specifically designed for motorcyclists. These courses not only provide valuable knowledge and skills but also contribute to building a stronger and more responsible motorcycling community.
Safety courses offer riders the opportunity to learn from experienced instructors who are well-versed in motorcycle safety practices. They cover a wide range of topics, including proper riding techniques, defensive riding strategies, and how to handle various road conditions. By participating in these courses, riders can gain a deeper understanding of their motorcycles and develop the skills necessary to navigate potential hazards on the road.
Taking safety courses not only benefits individual riders but also contributes to creating a safer environment for everyone in the motorcycling community. When riders are educated about safe riding practices, they become more aware of potential risks and are better equipped to avoid accidents. This not only protects themselves but also helps reduce the number of incidents involving other riders and motorists.
Moreover, safety courses foster a sense of responsibility within the motorcycling community. By investing time and effort into learning proper riding techniques, riders demonstrate their commitment to safe riding practices. This commitment sets an example for others within the community and encourages them to prioritize safety as well.
Safety courses also provide an excellent opportunity for riders to connect with fellow enthusiasts who share a passion for motorcycles. These courses often involve group activities and discussions that allow participants to exchange experiences, insights, and tips. This interaction strengthens bonds within the motorcycling community and creates a supportive network where riders can learn from one another.
In addition to enhancing your own skills and contributing to a safer community, many insurance companies offer discounts on premiums for completing recognized safety courses. This financial incentive serves as an added bonus for taking the initiative to improve your riding abilities.
To conclude, safety courses are an invaluable resource for riders in the motorcycling community. They offer a wealth of knowledge, skills, and connections that can enhance your riding experience while prioritizing safety. By participating in these courses, you not only invest in your own well-being but also contribute to building a more responsible and secure motorcycling community. So, take the first step towards becoming a safer rider by enrolling in a safety course and join others who are dedicated to making the roads a safer place for all.
Respect Other Riders

Respect Other Riders: Building a Stronger Motorcycling Community
In the vast and diverse world of motorcycling, one fundamental principle stands out above all: respect for fellow riders. The motorcycling community thrives on a sense of camaraderie and mutual support, and treating others with respect is at the core of fostering a strong and united community.
Respecting other riders goes beyond simple courtesy; it's about recognizing that each rider has their own unique journey, experiences, and skill level. Whether you're a seasoned rider or a beginner, showing respect towards others on the road helps create a safer and more enjoyable riding environment for everyone.
One key aspect of respecting other riders is practicing good road etiquette. This means following the rules of the road, obeying speed limits, using proper signals, and maintaining a safe distance from other motorcycles. Being mindful of your surroundings and anticipating the actions of fellow riders can prevent accidents and ensure smoother traffic flow.
Another important aspect of respect is acknowledging the diversity within the motorcycling community. Riders come from different backgrounds, cultures, and experiences. Embracing this diversity helps create an inclusive environment where everyone feels welcome. Avoid making assumptions or judgments based on appearances or stereotypes, as they often do not reflect the true character or abilities of individuals.
Respecting other riders also extends to their personal space. When parking at events or meet-ups, be mindful not to encroach upon someone else's designated area. If you're partaking in group rides or touring with others, communicate effectively to ensure everyone's comfort and safety. Riding in close proximity requires trust and consideration for each rider's limitations.
Additionally, offering help or guidance to fellow riders in need is an excellent way to show respect within the motorcycling community. Whether it's assisting with mechanical issues on the roadside or providing advice to new riders seeking guidance, lending a helping hand fosters a sense of unity among enthusiasts.
By respecting other riders, we strengthen the bonds within the motorcycling community. It's through this mutual respect that we create an environment where riders feel supported, valued, and inspired. Let's continue to uphold the values of respect and build a stronger, more cohesive motorcycling community for everyone to enjoy.